What Are Audience Response Keypads?
Audience response keypads (sometimes also called response cards) are hand-held devices that the audience use to submit their votes. Response card works just like a wireless remote, but rather than controlling your TV, it lets you vote electronically and instantaneously. There are many types of wireless clickers to choose from depending on your needs, training content and of course, your budget. Some have a LCD display and some don't, while others support multi-digit entry or even long-form texting. Some are shaped and sized like a credit card, some are more ergonomic and fit an adult hand more comfortably. Scroll down to compare each model we offer and feel free to contact us if something strikes your fancy.
How Do I Choose the Right Clicker?
Meridia offers a variety of audience response keypads and software to match your goals and objectives. To build a system that best fits your needs, choose a keypad and software and pick a carrying case. Our staff is standing by to answer your questions and assist you in choosing the ideal tool. You can also 'test drive' an audience response system for 14 days. Just request a demo kit and we will send you a set of wireless clickers, USB receiver and software.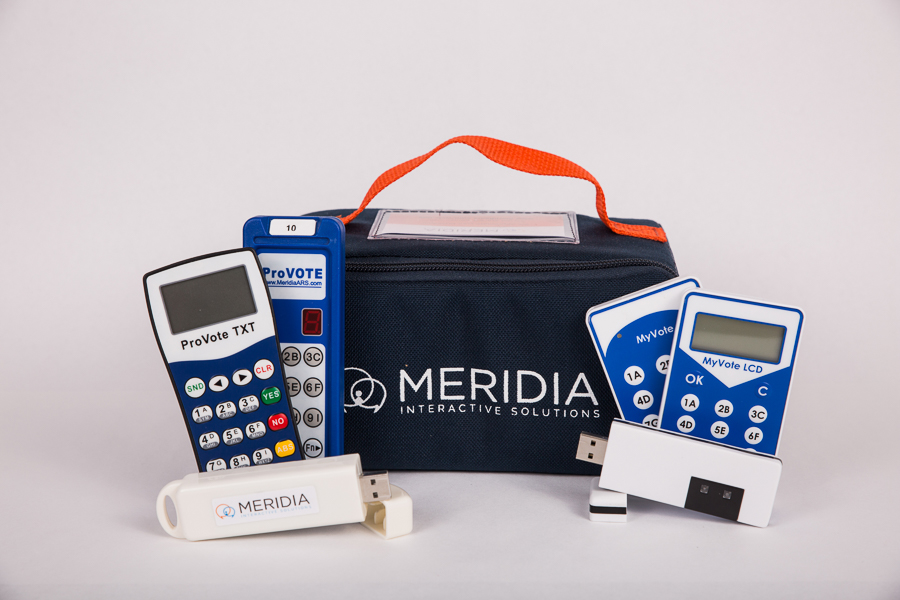 Audience Response Keypads Comparison Sheet

Why Is It Important?
Learn More
Learn More
Learn More
Learn More
Keypad Name
MyVOTE
MyVOTE LCD
ProVOTE
ProVOTE TXT
Price Point
$
$$
$$
$$$
We offer differentiated products to fit any budget.
Display
No
Yes
Yes
Yes
A display increases voter confidence because users can see what they voted and visually confirm their vote was received.
Battery Type
Coin Cell
Coin Cell
AAA
AA
Coin cell batteries can be harder to find and more expensive to replace then standard battery types.
Battery Life
6-12 mths.
6-12 mths.
3-4 yrs.
1-2 yrs.
Keypad battery life will effect the overall cost of ownership and maintenance of an ARS system.
Range
200 ft
200 ft
450 Ft
450 Ft
The longer the range the more venues the equipment will work in. Longer range increases accuracy.
Communication Frequency
Static RF Frequency
Static RF Frequency
Wi-Fi Avoidance
Wi-Fi Avoidance

Wi-Fi avoidance eliminates wireless interference allowing devices to move away from alternate RF signals automatically.

Multiple Digit Voting
No
Yes
No
Yes
Keypads that do not have multiple digit entry are limited to submitting only 1 vote per answer question.
Text (SMS) Capabilities
No
No
No
Yes
Keypads with SMS texting capabilities are able to transmit questions and fill-in-the-blank answer options.
Dimensions
3.6″ x 2.1″ x .3″
3.6″ x 2.1″ x .3″
5″ x 1.75″ x .625″
5.25″ x 2.2″ x 1″
Keypad size affects comfort, usability, and loss rate.
Weight
1.0 oz
1.0 oz
2.6 oz
4.7 oz
Keypad weight affects durability and shipping costs.
Entry Buttons
1-10 Alpha Numeric
1-10 Alpha Numeric
1-10 Alpha Numeric
1 -10 Alpha Numeric (SMS / Multidigit)
Advanced entry options allow greater keypad functionality.
Ideal Operating Environment
Classroom or small venue
Classroom or small venue
Venues large and small
Venues large and small
Keypads that utilize advanced RF communication and have larger ranges can be used in venues of any size and alongside multiple wireless sources.