PowerPoint Audience Response Plugin
EZ-VOTE Connect includes the easiest, yet capable PowerPoint audience response plugin on the market today. Like the rest of the Connect suite, our PowerPoint polling software is cost-free, subscription-free, and license-free. EZ-VOTE was designed by the training and education community with a focus on ease of use. All interactive slides can be inserted or converted with a single click. Like the rest of the Meridia's products, EZ-VOTE is fully supported.
EZ-VOTE is integrated directly with PowerPoint.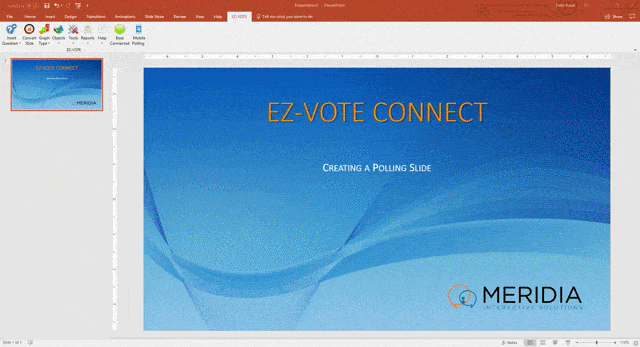 EZ-VOTE is easy enough for standard Q & A polling, yet powerful enough to handle the most complex events.












Give it a try. It's free and no signup is required.

EZ-VOTE boasts 14 reports that allow users to store and analyze their voting data. Additionally, each system purchased from Meridia includes 12 months of centralized cloud reporting available via CloudVOTE.

EZ-VOTE provides the user with a variety of comprehensive audience response reports. From question list to participant list, every bit of data can be reported on. If you see something missing, we can customize reports to suit your needs.
Expand the report and click the PDF icon
Mobile Polling & Cloud Storage
Like other EZ-VOTE Connect apps, our PowerPoint audience response plugin 'connects' seamlessly with the CloudVOTE mobile polling and content management platform. It allows users to collect data from both audience response keypads and mobile devices alike. Meridia includes 12 months of mobile polling, cloud presentation storage and centralized reporting with every system we sell.
Presentations created in our EZ-VOTE PowerPoint audience response plugin will automatically be synced to your CloudVOTE account. Plus, you can invite your mobile audience to any of the EZ-VOTE slide shows with just a click of a Mobile Polling button on the toolbar.
Our Software Guarantee
We are not turning our backs on you.
Our software does not need internet to 'check in with the mothership', or to connect with the clickers. It is not limited by a seat license or an active subscription. Once you activate your license, the audience response keypads will work with the desktop polling software forever, regardless of whether you are using 10s or 100s of them. We will never limit your ability to use the hardware and software on the desktop once you've purchased it, even when your free cloud subscription expires.
Give it a try. It's free and no signup is required.

U.S.-based training and technical support comes standard. From training videos to live one-on-one training and vast knowledge base, you will start using EZ-VOTE as a pro in no time!