Electronic Voting System in New England Town Meetings
Replace Hand, Voice and Paper with a Voting System
Never Again Count (and Recount) 2/3 Vote by Hand
Works with Open and Representative Government
Automatically & Instantly Calculate Any Quantum of Votes
Private & Anonymous Vote by Default
Count Both Yay and Nay Floor Votes in Real Time
Increase Town Meeting Participation
COVID-19 National Emergency and Public Health Emergency has been cancelled on May 11, 2023.
Meridia still recommends that you use Visual Vote Confirmation as a best practice in secure electronic voting.
Thank you for working with us so diligently over the last three years to make things work even in the most difficult of environments.
Electronic Voting System in New England Town Meetings
New England Town Meetings, often referred to as a true town meeting, are universally recognized as the purest form of democracy. Throughout Massachusetts, Maine, New Hampshire, Connecticut and Rhode Island, towns and communities call upon their citizens to come together in a formal setting to debate, discuss, and decide on matters that impact their lives and communities.
Prior to each meeting, a small board of elected "selectmen" which are essentially the executive arm of Government in New England towns, publish a Warrant, which is an agenda of important items to be voted on during the town meeting. Traditionally, town meeting participants have used voice, paper or hand votes to approve or disapprove of the Warrant items, however in today's modern town meetings, many communities are quickly adopting electronic voting technology to accurately count the votes and calculate if an item has passed or failed.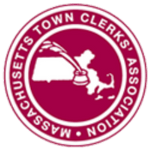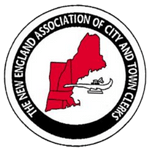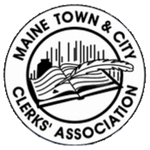 "The electronic voting system streamlined the process in multiple ways. Our moderator was able to call votes with a greater sense of certainty, as each vote total was shown directly to her, with the required quantum of votes threshold displayed clearly and instantly. Additionally, the public felt more confident in casting their votes anonymously with the new system."
– William Blake, Assistant Town Administrator, Grafton, MA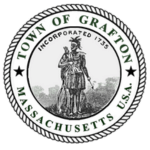 Town of Leicester needed to socially distance over 800 voters in a 80,000-sq foot facility.
Town of Sterling needed to have their town meeting at an air strip, where residents would vote from inside their cars.
Town of Stow was forced to split their voters into two separate spaces, about 150 feet apart.
What do Town Clerks Say About TownVOTE?
Ann Dunne
Town of Sudbury
,
"The clickers make the vote count more efficient and faster, and residents have embraced the new technology. The absolute vote count makes it easier for the Moderator to call the results also."
800-keypad owner
William Blake
Town of Grafton
,
"The electronic voting system streamlined the process in multiple ways. Our moderator was able to call votes with a greater sense of certainty, as each vote total was shown directly to her, with the required quantum of votes threshold displayed clearly and instantly. Additionally, the public felt more confident in casting their votes anonymously with the new system. All in all, I think everyone entered the meeting with a greater sense of confidence that we could handle the business of the night with greater efficiency than every before."
500-keypad owner
John Miller
Town of Mashpee, MA
,
"Hand counts are tedious and prone to errors. Voice votes are even riskier. Our citizens are praising the change and appreciate the accuracy, speed, and voter privacy at our town meetings."
800-keypad owner
Ellen Agro
Town of Mendon
,
"The biggest benefit from having this system is I feel we are getting a true vote every time now. People are not afraid of their neighbor seeing or hearing how they voted. We do use it for every article, which saves a lot of time. No more queuing up to cast a secret ballot! I love that results are immediate and the audience sees them in real time."
Owner of a 400-keypad system
Laura Schwall
Town of Rehoboth
,
"Meridia's clickers definitely take the stress out of any meeting…small or large. The voting devices have saved the Town of Rehoboth multiple night sessions of Town Meeting and no one can complain about or challenge the votes; it is what it is, the voter's voice was heard in a matter of seconds!"
Owner of a 2,000-keypad system
Joseph Pessimato
Town of Wenham
,
"The use of Electronic voting at the Annual Town Meeting was largely uncharted territory for the Town of Wenham. Due to this and voting articles that were expected to be contested, residents and staff alike couldn't help but be nervous. However, Meridia staff was extremely helpful and patient with any questions asked. Furthermore, their on-site technician was there the day of the Meeting to help walk us through the whole procedure. This led to an extremely smooth Town Meeting which went off without a hitch. Anyone looking to use electronic voting both in the public and private sector should heavily consider Meridia."
Owner of a 700-keypad system
Laurie Stockley
Town of Warren
,
Just wanted you to know that everything went great! Thank you so much for your help these past few days. 32 articles and it was done in 1 hour! 😀 I never dreamed I'd be home for Monday night football, but I'm not complaining!
Owner of a 300-keypad system
Paul Munchbach
Town of Dedham
,
Our first time using an electronic voting system was awesome! Everyone loved the clickers; it's the talk of the town!
Owner of a 300-keypad system
R. Christopher Brittain
Town of Lee
,
We are a representative government, so we show how each representative voted instantly after the vote was closed, which saves a lot of time manually counting each vote. We also no longer have to vote for "Yea" and "Nay" separately. Our constituents like that they can see (in-person or over Zoom/broadcast) how their rep voted and whether they represent them well.
Owner of a 400-keypad system
Lynne Girouard
Town of Sturbridge
,
At my last town meeting, the clickers saved me. We had many motions with a 2/3 majority. With the TownVOTE system, it was calculated instantly even with over 1,000 people. In the past, these kinds of meetings would spill into many hours.
Owner of a 1,000-keypad system
Nancy Lowell
Town of Warren
,
Everything at our first town meeting with the electronic voting system went great.  Everyone liked seeing the results immediately.  Having the clickers cut off at least an hour of the meeting.
Owner of a 300-keypad system
Florice Craig
Town of Seekonk
,
Overwhelmingly, Seekonk voters loved the voting devices!!! Positive comments have been coming in all day. Voters especially liked being able to vote anonymously. One resident said that our first town meeting with the clickers was the best and most productive in the 50 years he's been coming to them.
Owner of a 800-keypad system
Deb Seith
Town of Stow
,
Everybody thought the clickers were great. The indoor and outdoor votes were captured simultaneously and tallied in seconds—which wouldn't have been possible if we had been voting in a traditional manner.
Owner of a 300-keypad system
Anthony Ansaldi
Town of Wenham
,
The value of EZ-VOTE was evident immediately. Everyone in town knew how long votes usually took, but with EZ-VOTE we had a complete and accurate vote count in, literally, 30 seconds. And even when the vote was close there was no question about its accuracy. There were no calls for hand recounts that could have taken half an hour to complete.
Owner of a 750-keypad system
Fred Aponte
Town of Sterling
,
In the past, counting hands or colored cards took time. If there was a close vote or a contested vote that demanded a recount or prompted a call for an actual paper ballot, that could easily take 20 minutes or more per vote. With the wireless clickers and EZ-VOTE, the votes could be captured, counted, and presented in seconds. The numbers were exact, and there was no question about how things were decided.
Owner of a 450-keypad system
Debbie Davis
Town of Leicester
,
The first time people used Meridia's EZ-VOTE system in a town meeting, they go so excited. They were thrilled with the remotes. They were simple to use. People could see the questions on the screen in the front of the room and knew which button to push to cast their vote. The pressure was gone, and people could vote the way they wanted to—and then they could see the results on the screen in seconds.
Owner of a 720-keypad system
Kelly Cote
Town of Uxbridge
,
From the perspective of the people trying the systems, it came down to the keypads. Everyone preferred the keypad from Meridia Interactive, which has a screen that confirms both how you voted and confirms that your vote was counted. The other ARS system keypad didn't have a screen and didn't provide this feedback, which was very important to our residents. They really wanted to know that the system was accurately capturing their votes.
Owner of a 1,000-keypad system
Daymian Bartek
Town of Rutland
,
We could not be more happy with the purchase of our new Meridia software and keypads. We needed something fast and reliable for our first ever outdoor Town Meeting. Every step of the process with Meridia was exceptional. From the set up, to the customer service, to the product itself was so easy and user friendly! I would absolutely recommend Meridia.
Owner of a 500-keypad EZ-VOTE 5 system
What are the main benefits of electronic voting in town meetings?

Anonymity
Fear of intimidation – out.
Honest opinion – in.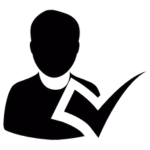 Higher Attendance
Towns are reporting higher business owner, and general public attendance.

Instant Vote Count
Every electronic vote is a secret ballot.
Done in seconds.

No Herd Voting
Delay or hide how the individuals vote and/or delay which way the vote is swaying in real time.

Clear Vote Count
No longer doubt the Moderator's call of a Majority or 2/3 Majority after a voice vote.

Keep Town Meeting Tradition
Town meeting's debate stays intact. Use voice vote when appropriate and clickers when needed.
"The biggest benefit from having this system is I feel we are getting a true vote every time now. People are not afraid of their neighbor seeing or hearing how they voted. We do use it for every article, which saves a lot of time. No more queuing up to cast a secret ballot! I love that results are immediate and the audience sees them in real time."
– Ellen Agro, Town Clerk, Mendon, MA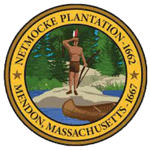 Frequently Asked Questions
How do I know the voting system is working?
Follow a Test & Run Checklist.
Feel free to dive into the details and download our "Event Checklist" from the Knowledge Base.
Make sure that you test the system (best in the Grid Mode) before the meeting to be confident that you can see all clickers 'light up' like this: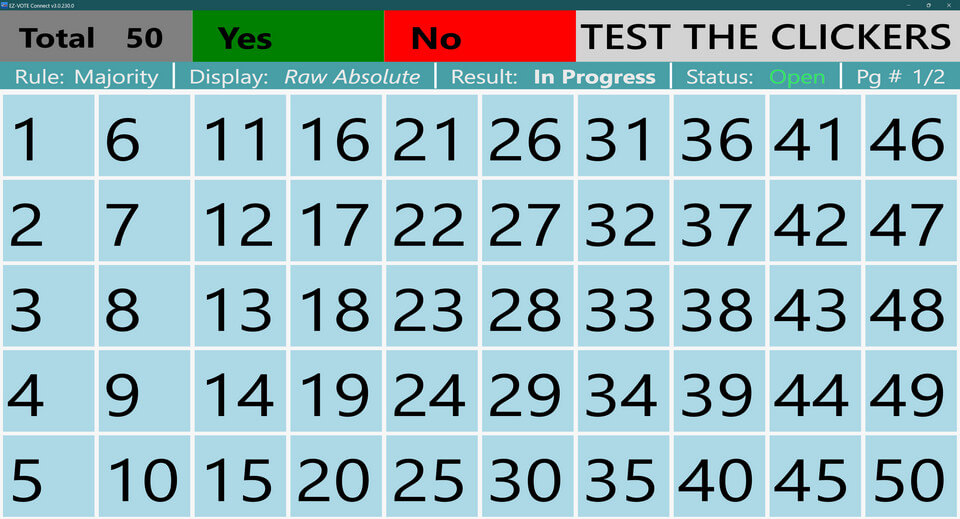 Your Keypad Range (KR) setting, and your Participant List (PL) should be the same (or leave Keypad Range much larger). For example, the KR setting could be 1 – 400 and PL can be 1 – 400. Alternatively, you can set KR to 1 – 1000 just in case you need to rent or borrow more keypads from Meridia, or your neighbors.
(Note: Keypad Range settings are accessible from the Connect Dashboard –> Settings –> connect the base receiver –> click Refresh –> change the KR setting and click Update).
Test voting from any angle in your meeting room and test the farthest corner.
See if any clicker shows the low battery indicator (learn more about keypad notifications) and change the batteries as needed.
If you confirmed that all clickers worked for you, then the only thing left is for the voter to actually push the button and make sure they see "OK" on their keypad screen. If they don't see the "OK" on the first try, it's OK to push it again – only one vote will ever be cast and counted.
How do you distribute keypads to the voters?
It's an individual decision.
Feel free to contact us (click the Get Quote button, call, or email us) and based on your specific meeting venue, number of people, and your voter registration process, we can recommend the best way to do it.
Normally, the towns in Massachusetts do not assign keypads to individuals, so that the voting can be truly anonymous, but they might note the clicker number so that they can track it down if it is missing.
You can put the clicker inside the 'voter registration packet' if there is one given out at the door.
COVID-19 precautions also caused a lot of changes, so a sanitizing station(s) might be necessary, and you will most likely have more registration stations than usual, so that you can accommodate the social-distancing requirements.
Here are couple of examples of how the towns set up their registration tables: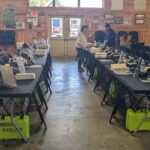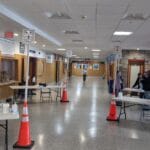 Will everyone vote?
Unfortunately, no.
You may register 500 voters at the check-in stations, but you should expect voter participation rates will fall below the total number of clickers distributed.
Live audiences rarely pay attention 100% of the time, so expect a few participants to be out of the room, talking to a colleague, or distracted by their phone.
Other voters may be confused or undecided about the voting topic and opt not to vote as they don't feel strongly one way or the other.
Some excited voters may try to vote before the moderator opens the voting window and some procrastinating voters may try to vote after the voting window has been closed.
While 100% voting participation can be forced by assigning devices to individuals and then calling out "John Smith" by name for his lack of participation, the effort and time required may be a little more then most moderators are willing to pursue.
See our answer to "How do I know the voting system is working?" to learn more about what you can do to be confident in your voting system, and to educate voters on how to use it effectively and make them confident also.
Can I have a meeting outdoors?
Yes.
There have been many Town Meetings during the Pandemic that took place outside. Just ask towns like Orange, Sterling, Stow, Lancaster, or even New Hampshire House of Representatives who all held their meetings at airports, parking lots, baseball fields, and other odd places.
Is the tradition of Town Meeting affected?
No.
The voting hardware (clickers) and software are used to administer the voting part of the Article workflow. The initial motion, second, and the debate are not affected in any way. The Clerk can decide to take minutes and utilize our Speaker Timer feature during the debate, or record a voice/hand vote if desired, but the debate itself is never skipped, or otherwise modified by the voting system.
Who runs/operates the software?
Anyone can do it.
The TownVOTE software is so easy to use, anyone can do it. In our towns it's either the Town Clerk, Town Administrator's Assistant, the Moderator themselves, or a dedicated audio-visual, or IT person who comes to the meetings anyway.
Check out our Training Video and see for yourself.
Are the votes recorded anonymously?
Yes.
There's no link between the keypad and the person in the TownVOTE software. You may want to record the keypad number that you're giving to the resident, so that you can get it back at the end of the meeting, but the voting software doesn't see that information.
The TownVOTE software can be configured to only show what you need to see – the subtotal of Yes and No votes, and a total of votes received. We also recommend that you hide the subtotals until after the vote is closed to prevent 'herd mentality'.
How do voters know the voting system is working?
Explain How Voting Works. Provide a Test Question.
It's very important, especially if this is your town's first Town Meeting with voting clickers that you explain how the system works. The introduction/instructions and a test question (or two) go a VERY LONG WAY toward trusting the system, and ease and speed of the voting process.
You can use (and customize) this sample presentation with instructions on how to use the Town Meeting voting clicker:
Also see this article about keypad notifications and feel free to use the images from it for your custom instructions.
Sometimes it's a good idea to leave the test vote with "Test Your Clickers" open while the registration is in progress, so that people walking into the Town Meeting can push a button and see that the vote has been counted.
Do the keypads have any ADA-compatible features for visually impaired?
Yes.
Meridia can now offer a portion of the keypads in your order to be ADA-compatible. Click the Get a Quote button above, or call us at 610-260-6800 to learn more.
The keypads can be configured to make a sound when the button is pressed and we offer a special design of the EZ-VOTE 5 keypad with buttons enhanced by Braille (raised) symbols.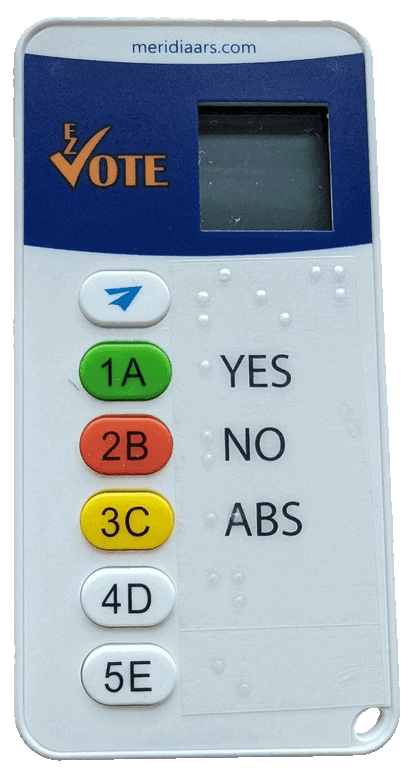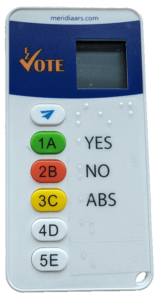 What happens if we lose some keypads?
No problem. You'll disable them.
See the Security section a bit lower on this page for more details, but part of the software security configuration is the fact that you are able to define a segment of the keypad range that the base receiver (antenna) will recognize and it will not allow any keypad outside of this range to vote.
Similarly, on a granular level, you can disable an individual keypad, or keypads. That way, if it is lost, or someone just forgot to return it, but it might be in someone's pocket at the next meeting, you can disable it and the keypad will never be able to submit a 'rogue' vote that you did not authorize.
Can I split the audience into multiple voting areas?
Yes.
We can accommodate multiple rooms easily. Towns like Stow and Raynham had to split their audience into indoor (gym and/or cafeteria) and outdoor (baseball field) in order to fit all the participants into the Town Meeting.
Do you need to split your voters into more than two rooms? Ask us how it's done and what logistical accommodations do we use for those scenarios.
Are there grants, or other financing available to purchase the town meeting clickers?
Maybe.
Meridia does not provide financing. We do business with towns based on a PO or a direct invoice.
However, there are towns in MA which were able to get a grant to purchase the voting system through their Governor's office. During the  COVID crisis, towns were able to utilize the ARPA and similar disaster relief funds that may still be available today.
Contact your Massachusetts Town Clerks' Association representatives to see if they have more information.
Are the results shown to the public? How?
You can show them, or not.
It's up to the Moderator to choose the voting method, thus it's also up to them to choose whether to show the results or not.
Since you're replacing a voice vote, or a hand vote, showing the results is not mandatory – you didn't see the results before, right?
But since it's very appealing to the public and it certainly adds to trustworthiness of the system, and the democracy behind the vote, we recommend that you do show the results to the audience, if possible.
You can consult with your audio-visual experts that you use for the projector screen and speaker & mic setup. They'll tell you everything you need…but in simple terms:
connect your voting computer to a video cable (HDMI will do) that goes to your projector and show the results that way.
if you're using more than one video input (e.g., PowerPoint presentations, videos, Word doc with your Warrant), you'll need to use a video switch, so that you can (literally) hit a button on the switch after the debate on the article is over, and you need to show the voting screen and later the results.
Check out the image gallery on this page (click on the photo to enlarge it) to see how towns around you are doing it.
Town Meeting Photos & Videos