From a Show of Hands to the Push of a Button
Boardroom voting evolves with the use of audience response technology
The modern business environment has benefitted in myriad ways from advancements in technology. But there's one real in which many boardrooms are still stubbornly stuck in the 20th century – voting.
Electronic Voting Systems
While plenty of companies have carried the tradition of votes by voice or a show of hands, modern demands for transparency and documentation require that corporations rethink the way they make and record the votes of their boards.
Using electronic voting software and dedicated complementary hardware, companies can streamline the voting process and bring it into the 21st century without compromising ease of use, and actually make the entire process more efficient, secure and transparent for all involved.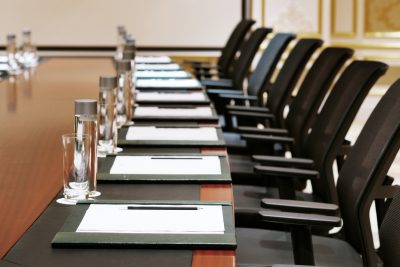 Better Voting & Record-Keeping Experience
First, the grid on which all vote participants are displayed is optimized for projection, providing a clear and legible list of as many voters as necessary. Second, votes can be customized to show individual votes as they take place or to wait until all votes have been cast to tabulate results, keeping each vote anonymous and lessening the possibility of one vote influencing another.
Third, voting software now allows not just for topics set as part of the formal agenda, but also amendments offered on an ad hoc basis. Once the amendments are entered by a clerk or secretary, they, too, can be voted on via the system, with the results recorded electronically. Rules governing what constitutes a majority – a simple majority of 51 percent or a 2/3 majority, for instance – can also be customized, depending on needs.

Secure. Offline. Auditable.
For the sake of security, electronic voting systems are kept offline and operate on a closed system. Voting parties are given the option of voting yes, no, or abstain. To support transparency, voting results can be exported to an Excel spreadsheet for hard-copy documentation.