Meridia Interactive Solutions announced at a Massachusetts Town Clerks Association Convention a new milestone of 30 municipalities that use the TownVOTE Electronic Voting System.
TownVOTE electronic voting system includes a comprehensive set of tools for group voting in a wide variety of scenarios, making it a popular choice for Massachusetts towns. The voting system operates on a closed-circuit, proprietary radio frequency (RF) via a USB receiver and dedicated voting "clickers" requiring no Wi-Fi connection for use. The interface includes a flexible voting grid and functionality to display results either publicly or anonymously. TownVOTE provides a more efficient alternative to hand-and-voice voting by electronically calculating simple majority, ⅔ majority, or custom majorities.
Many Massachusetts towns and cities have already benefited from deploying TownVOTE in their town meetings. Notably these include Sterling, Stow, Wenham, Leicester, and over twenty others. Customers have cited TownVOTE's ease-of-use and responsive customer service as standout features over other electronic voting options.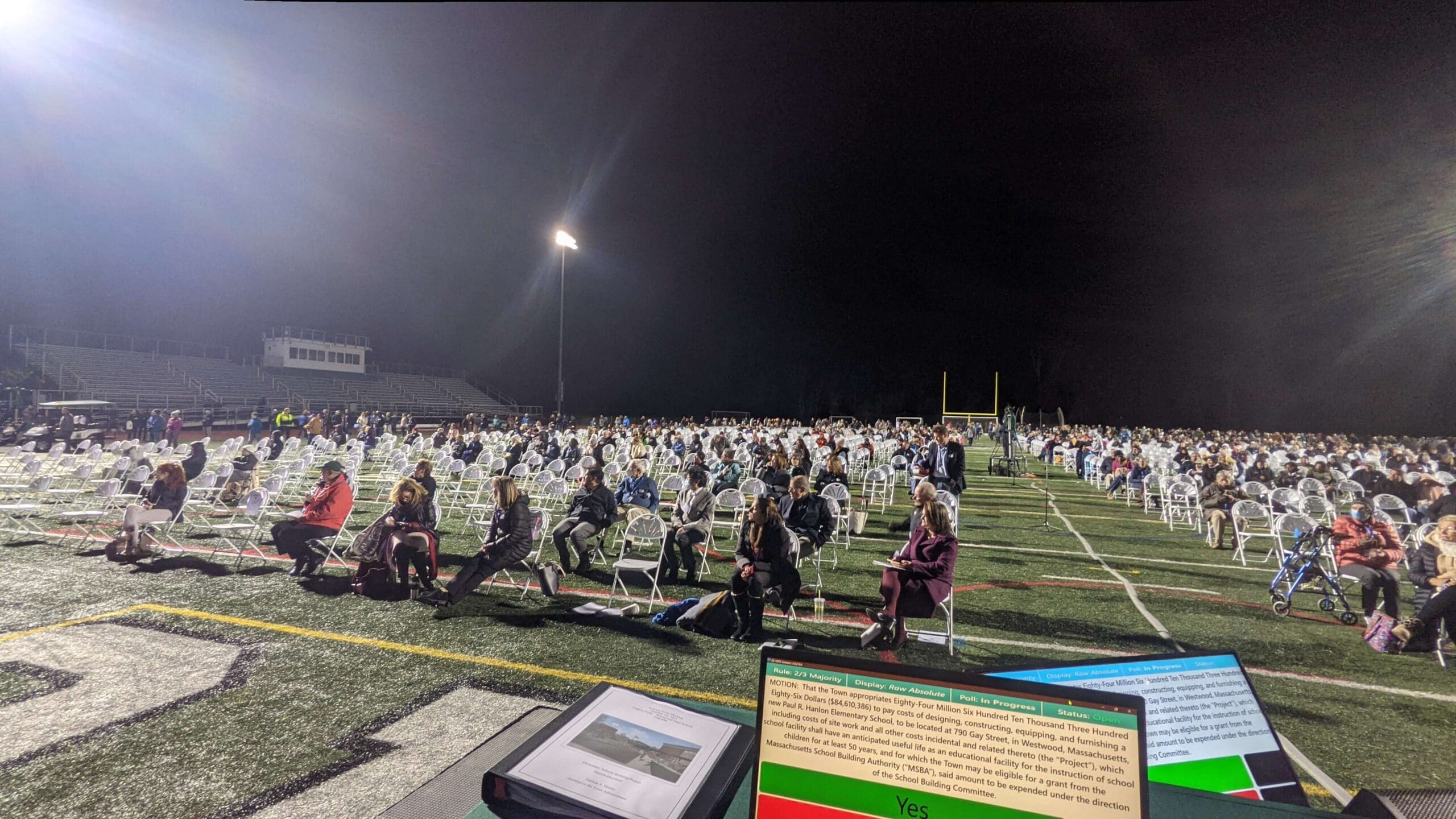 The town of Westwood, MA registered over 1,000 votes with TownVOTE in their special town meeting to approve funding for a new school.
Customers have found success implementing TownVOTE amid COVID-19 restrictions due to its offline capability as well as the wide range of the clickers. The town of Stow, Massachusetts held a socially-distanced voting session by using TownVOTE to record, tabulate, and analyze their votes from multiple polling locations in real-time. Similarly, the New Hampshire House of Representatives utilized TownVOTE in a large outdoor voting session in a location spanning over two football fields. Additional support was provided by Meridia on both occasions to ensure success.
"The value of TownVOTE was evident immediately. Everyone in town knew how long votes usually took, but with TownVOTE we had a complete and accurate vote count in, literally, 30 seconds." – Anthony Ansaldi, owner of a 750-keypad system.
TownVOTE now includes a "High Contrast Mode" allowing for better readability for users with deuteranopia and other forms of color blindness, which enables a wider audience participation and better democratic process during town and council meetings.
For more information about TownVOTE, visit http://www.meridiaars.com/townvote or call Meridia at (610) 260-6800.