Making Smart Technology Decisions
Among the many challenges show organizers face every day, technology decisions may be some of the most difficult. Organizers must be confident that they are using the right tools for the right purposes. A technology that succeeded at one show might not be the correct choice for another because of variables like the number of attendees, square footage, or any of the other small things that differentiate one tradeshow from another.
TS2 = Total Marketing Solutions
One industry professional with a wealth of experience in making technology decisions is Kellie Shevlin, TS2 Sales and Industry Relations Director for National Trade Productions. Event technology is an important part of her workday because of the nature of her show. She says, "TS2 is the total solutions marketing event. In order to reach the savviest marketers in the industry and convince them that they need to attend our show, then we need to demonstrate that we are not just your average show and technology is a key to accomplishing this."
In choosing technology, Shevlin must take into account the unique requirements of her show. For example, while impressed by the various RFID technologies available, Shevlin did not feel RFID was necessary at her show. She explains, "We have explored RFID. The reason we have not implemented it is because the size of our show does not warrant the expense of bringing RFID in yet, not that the technology is neither cool nor useful."
Incorporating Audience Response Technology
TS2 recently implemented the use of audience response systems, a new technology that performed extremely well for Shevlin. She recounts the decision to utilize this tool, "When we partnered with Meridia Audience Response, the idea was twofold: 1.) it was a way for us to develop really interesting information and stats from our show in terms of metrics, and 2.) it was a way for our audience to actually see what was out there in terms of cutting edge metric solutions for events, because this is all technology that they could possibly use at their own event."
Meridia's audience response system allowed Shevlin and her team to collect data and feedback from their attendees in order to influence planning for future shows. Shevlin continues, "What we really enjoyed about the tool was that we had one classroom set up with the audience response system — we then had our speakers work directly with Meridia's team to incorporate the audience response technology into their presentations. This allowed those sessions to be interactive and provided the attendees with a 'wow' factor in tailoring the session directly to their needs, as seen through the real-time response. We were also able to ask two to three questions before hand to gauge what our audience was looking for: What did they want? What did they need? Were they satisfied?"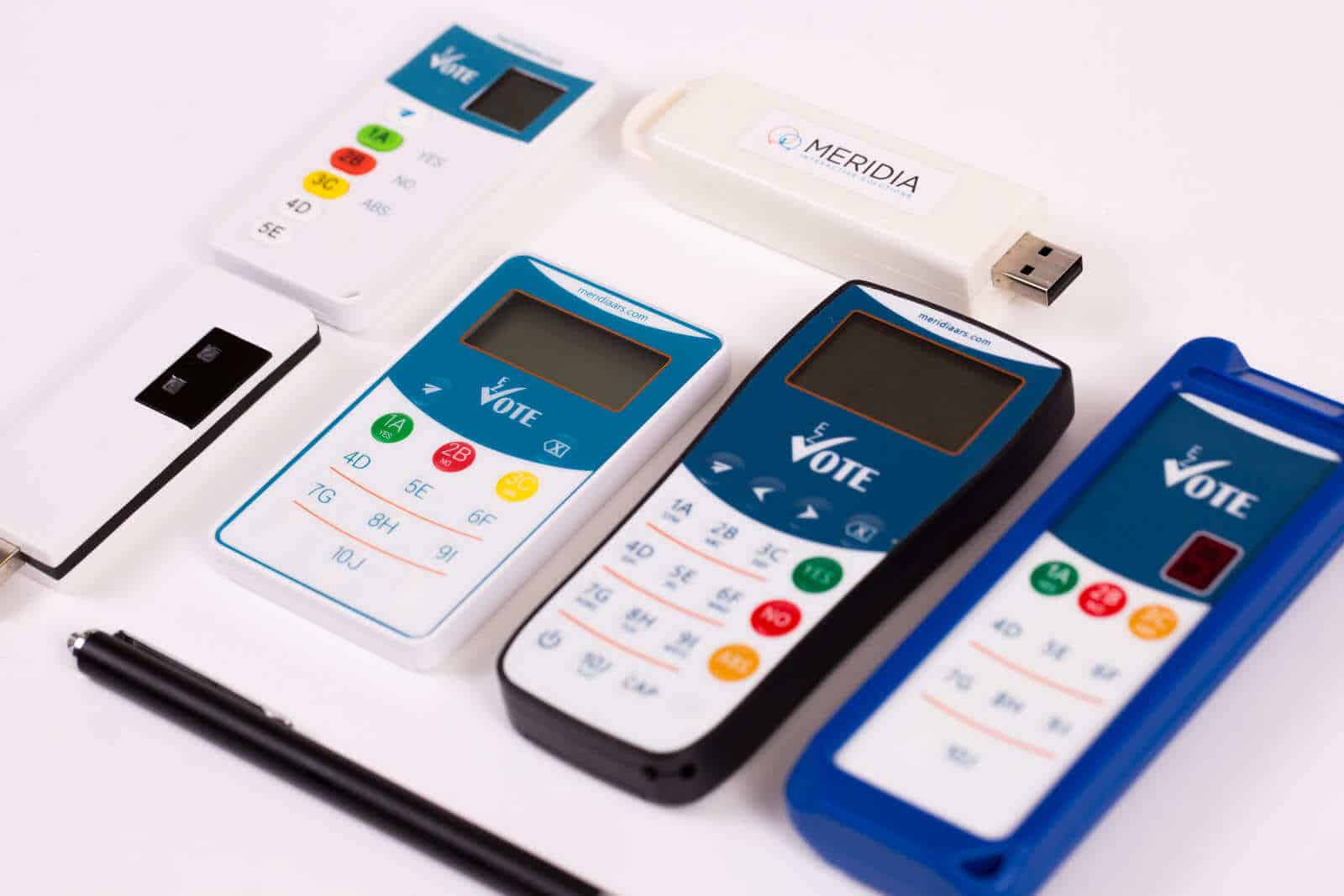 Tracking Industry Trends with TrendWatch
In addition to supplying audience feedback, Meridia's tool also allowed Shevlin and her team to track industry trends. She states, "With Meridia Audience Response's TrendWatch solution we were able to ask questions, including a set of questions that IAEE used at an event three months earlier. We could then actually compare and contrast what our industry segment is doing compared to the other industry segments, thereby finding trends in the overall tradeshow industry."
Meridia's tool yielded some surprising conclusions. Shevlin says, "The results were interesting because we always thought one of the largest industry segments attending TS2 was pharmaceutical, but, with some of the data, we have found that the technology sector is almost as strong in terms of attendees. That was something that surprised us." This important insight will help with future shows by giving Shevlin a better understanding of her audience.
Technology Experience Must be Seamless
As a marketing show, TS2's goal is to present attendees with the latest technology, solutions and best practices available in the industry, something that Shevlin plans to continue and improve. She states, "In terms of technology, we are really making an effort to raise the bar. We want people to have an experience." Shevlin worked with BDMetrics and SmartSource Audio Visual & Computer Rental, among others, to enhance the 2008 customer experience. She elaborates, "BDMetrics' 'Tradeshow TV' featured a news reporter talking about the new products demonstrated at the show at a news desk with the TS2 logo behind him. With SmartSource, we used a tool where attendees could swipe their badge and e-mail themselves a PDF of any of the products that were in our new product showcase. Attendees using our touch screens could retrieve information about any of our showcased products producing an extremely tactile experience. Allowing our attendees to see, hear, and touch the showcases products worked really well."
Shevlin plans to continue the focus on new technology for the future. She states, "We think that technology is moving quickly in this industry so much that we are thinking about starting a technology pavilion on our floor. We do find a lot of different companies offering various technology-based solutions for the industry and would like to put them all in an area on the floor to really highlight that segment of new tools and solutions."
Marketing Solutions for the Modern Era
As the economy continues to be a concern, Shevlin believes that the Events and Exhibitions Industry is going to have to re-evaluate its standard practices. Shevlin relates, "I really believe that as material handling is getting more expensive and as the cost of exhibiting at a show rises, people are going to need to be smarter about how they exhibit. I do not think face-to-face exhibiting is ever going to go away because it is an extremely powerful way to showcase what a company is capable of, but the new technology tools give people smarter ways to promote what they do in a face-to-face marketplace."
Shevlin continues, "From the way I see the industry going, I really think that technologies offering the opportunity to really maximize ROI are going to be important. With the many solutions I have seen on the market, an exhibit manager can plug in all of his unknown variables for a show and find out how to maximize his ROI. He can find out how much he is spending for every show and discover what works and what does not work. There are a bunch of companies that have similar solutions and I think that is where people are going to start going because they can really see where they are spending their money. How much are they spending on shipping? Is shipping so much now that they need to get a lighter booth? I think people are going to need to know how to break down their budget into very small effects, and I believe this type of technology is going to do very well coming up."
Virtual Trade Shows and Social Media Integration
Increasingly, virtual exhibitions and events are becoming a bigger focus within the industry. Many people initially view them as competition for real, physical events, but Shevlin does not believe that is necessarily true. She states, "The interesting thing with virtual conferences is that we get a lot of backlash within our industry because our vendors are face-to-face marketers and they do not like virtual. In fact, I am part of the local chapter for EDPA and we had thought of having a virtual tradeshow company speech, but chose not to since our membership is face-to-face, including members that build booths and have face-to-face marketing solutions for people. I think in terms of our exhibit base, there are some who are a little bit afraid of taking tradeshows online, but I think as they come to see the big picture, that virtual conferences will definitely complement what they do and extend the event, they will be assured."
While the successful implementation of virtual conferences may still be a few years off for the industry in general, Shevlin is using current social media to build her show's community. She continues, "We've created a LinkedIn group, we have a fan page on Facebook, and we put our show pictures on Flickr. We are trying to engage our customers as a way to extend the event — we want people, all year round, to see TS2, to be part of TS2 and with these technologies, we hope to create a community. The best way to create a community is really finding the best way to implement these technological tools."
As technology continues to progress, Shevlin plans to keep her eye on the technological pulse of the industry. TS2, Total Solutions Marketing for the Exhibit and Event Professional, will be held July 20-23, 2009 in Chicago, IL.