Measuring Knowledge and Attributes with Audience Response Technology
The traditional approach to learning what is on the minds of trade show or conference attendee is to simply ask them. Audience response systems make it possible to ask these questions and gather the answers from large groups while sharing the responses.
Sean McPeak, Chief Executive Officer for Meridia Interactive Solutions, states that his company's products "give our clients, across varying industries, a way to effectively gauge the attitudes and/or knowledge of their stakeholders. Audience response polling presents a series of questions to groups of individuals which profile issues that are both relevant and important to them personally and as an industry as a whole."
Many Applications For Keypads
A number of different audience response tools are available, each of which can be used in a variety of settings and environments depending on the objective. Audience response systems- can be put to use for education and training, focus groups and market research, and business meetings as well as games, entertainment and lead retrieval. Multisite — connectivity enables participants from different parts of the nation to be in sync with each other via satellite. This allows for polling multiple locations at the same time. This is a unique breakthrough and allows for the tool to play a part in meetings at a cost effective price point.
Audience response keypads gather data from groups ranging from consumers to employees to conference attendees, making them well suited for use at meetings and conventions. McPeak explains, "Increasingly, as trends develop, associations and trade shows become the focal points of these movements.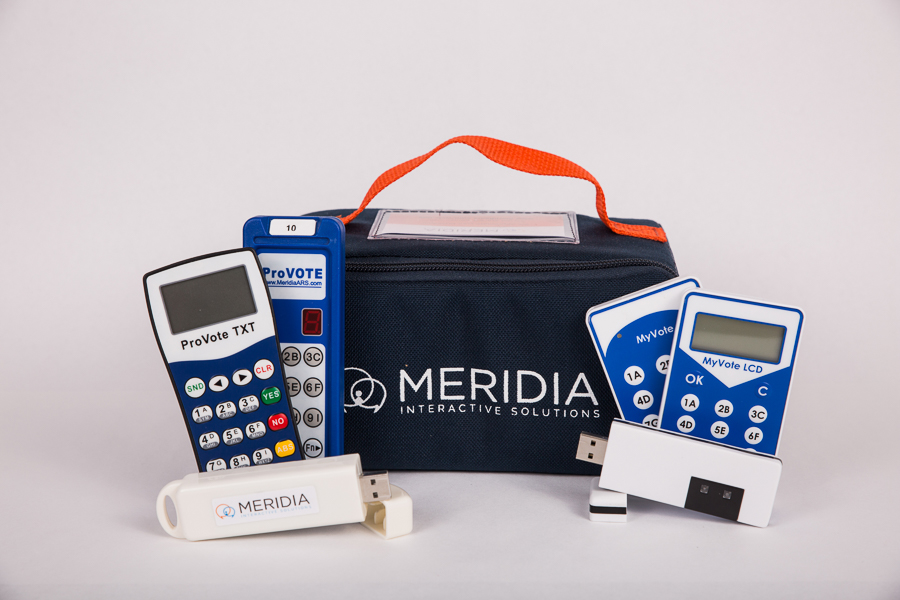 The Meridia tool set aligns closely with the emerging business management trends of customer engagement and two-way communication. McPeak states, "Trade show chatter and scuttlebutt can be difficult to quantify which may lead to miscues in setting a marketing or management direction. Our keypad polling technology engages participants in an interactive, two-way dialogue on issues that are relevant. Once the results are tabulated, management has access to feedback on issues that allow them to listen to the people that are at the grass roots level of an organization. Listening to the people in the trenches and really understanding their perspective can unlock the hidden potential of a company."
One industry professional that can attest to the value of Meridia's audience response system is Kellie Shevlin, of National Trade Productions, who recently used Meridia's tool at the TS2 show with much success. She was able to get immediate feedback from her audience and compare the results of the same poll among different groups of people. Meridia's tools were such a success at this year's show that she is already planning to use them for next year's show.
The audience response polling system should be an income generator for any association or trade show. Creating sponsorship which positions companies as thought leaders and industry resources makes for a very viable business model. Beyond the direct revenue of sponsorship sales is the impact that audience response can deliver the association in their own marketing efforts. Membership recruitment and retention is consistently enhanced through audience research as current members provide constructive feedback for future plans while they themselves feel more engaged in the association or event simply because they have been asked to share their opinions.
Association Membership Feedback
The perceived cost of implementing audience response technology is a deterrent to some meeting planners, but Baker believes the value of the product far outpaces that of other traditional event expenditures. Even in a case where the association elects not to offset or profit by offering the audience response as a sponsorship package, Baker states, "I do not believe that professional organizations can afford not to engage their stakeholders in this day and age." He asserts, "Audience response systems, and the information that it delivers, are an investment in long-term growth. Attendees are willing to respond to almost any question you ask them because of the anonymity and the ability for them to participate in a town hall forum type of approach. The attendee experience, combined with the information gleaned in the process, adds so much to the meeting that no one is likely to miss a few extra shrimp if a few dollars are shifted from the food budget."
People attend meetings and trade shows to learn about products and industry trends. Show organizers can seize this opportunity to learn more about their attendees. Baker advises, "Goal setting is step one for planners. Questions posed must be tied to a specific objective, opportunity, or challenge. The true value of audience response technology can only be actualized when participants realize that they have shared in a unique moment of personal discovery and that their input has been heard."