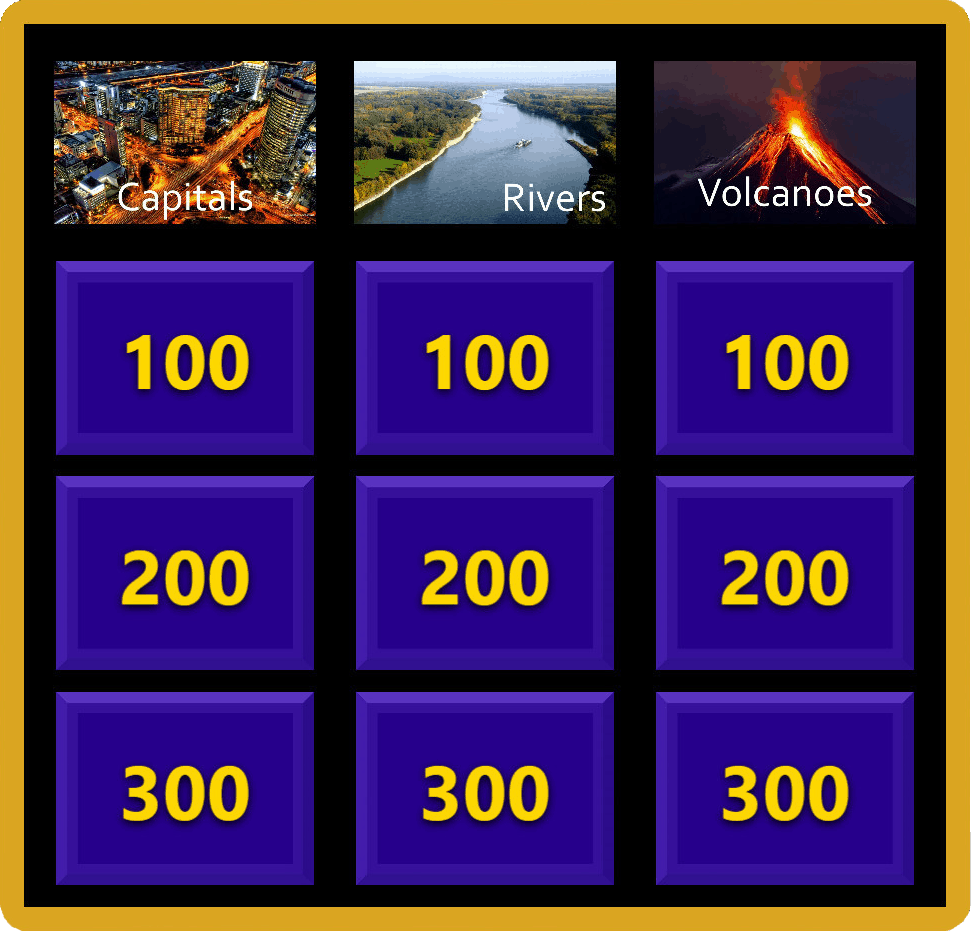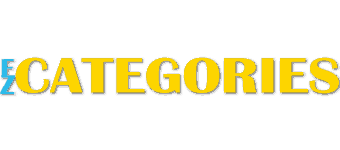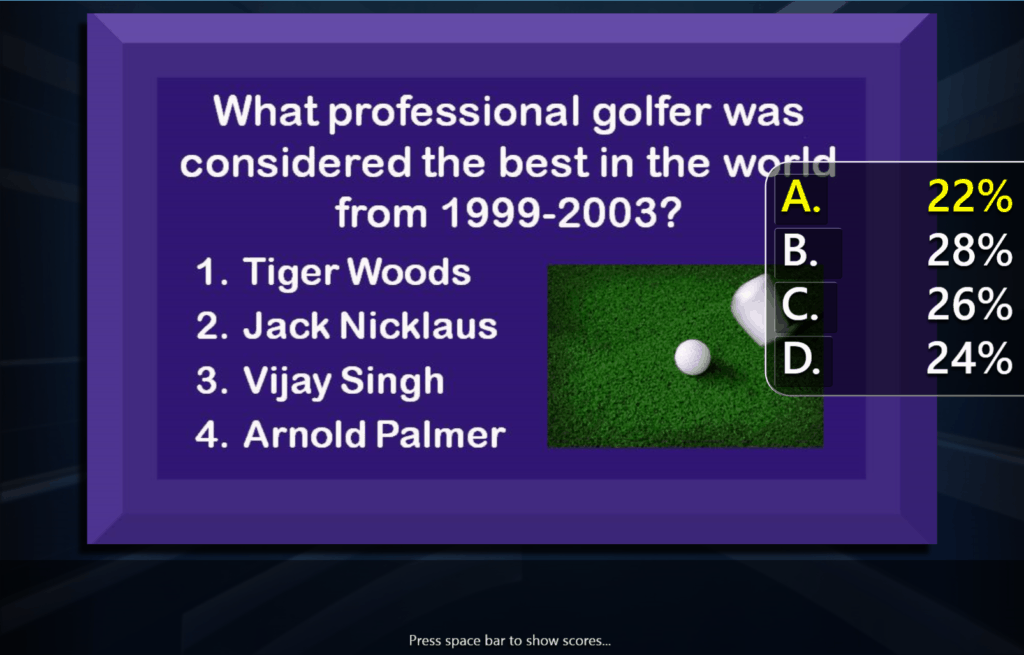 Jeopardy-like
Interactive
Team Game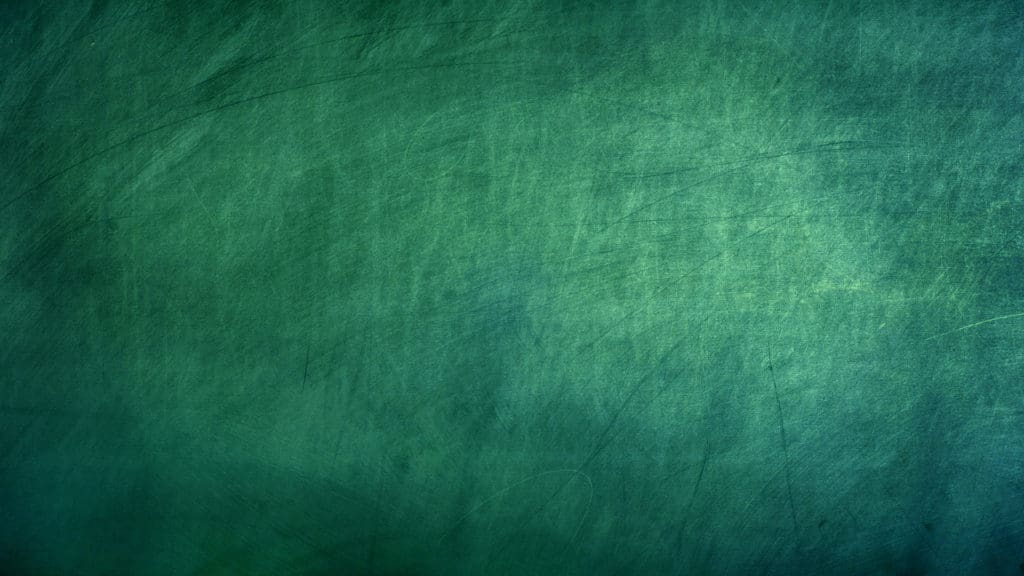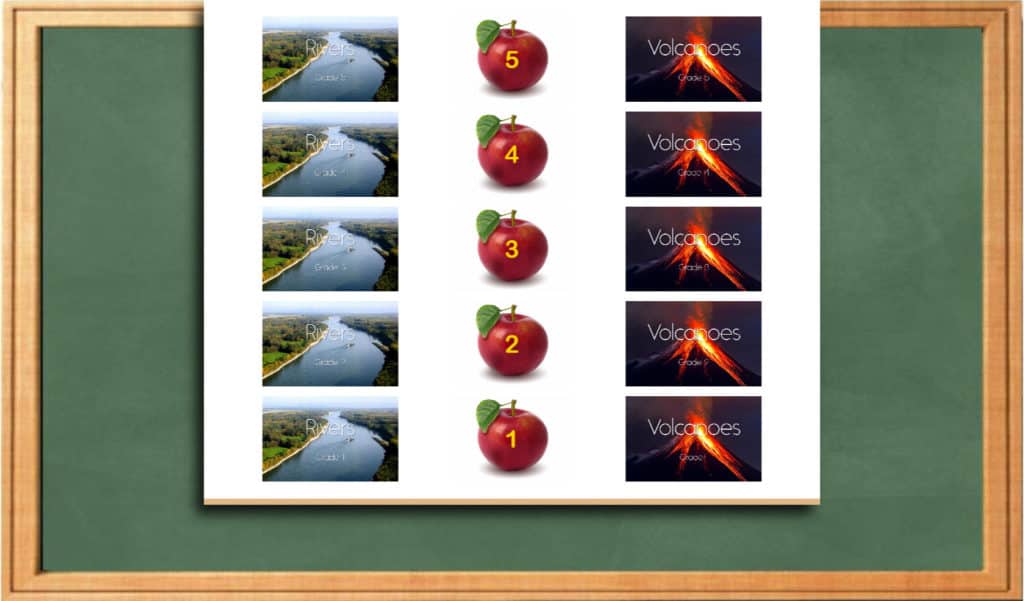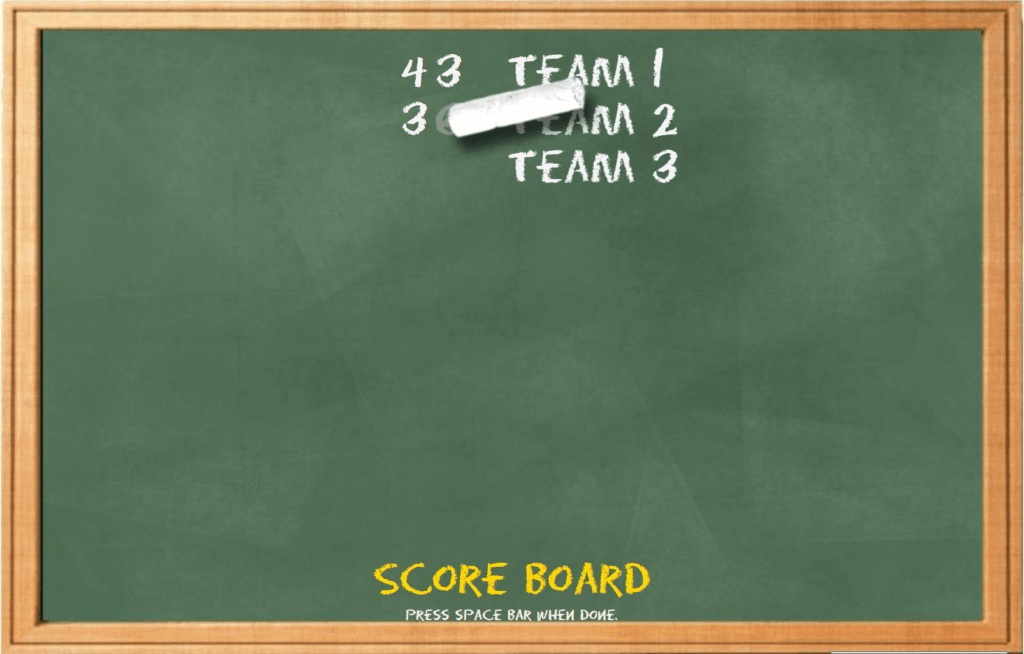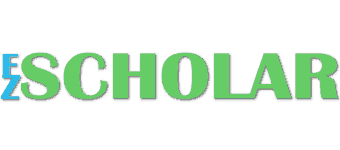 Are You Smarter
Than a 5th Grader
Interactive Game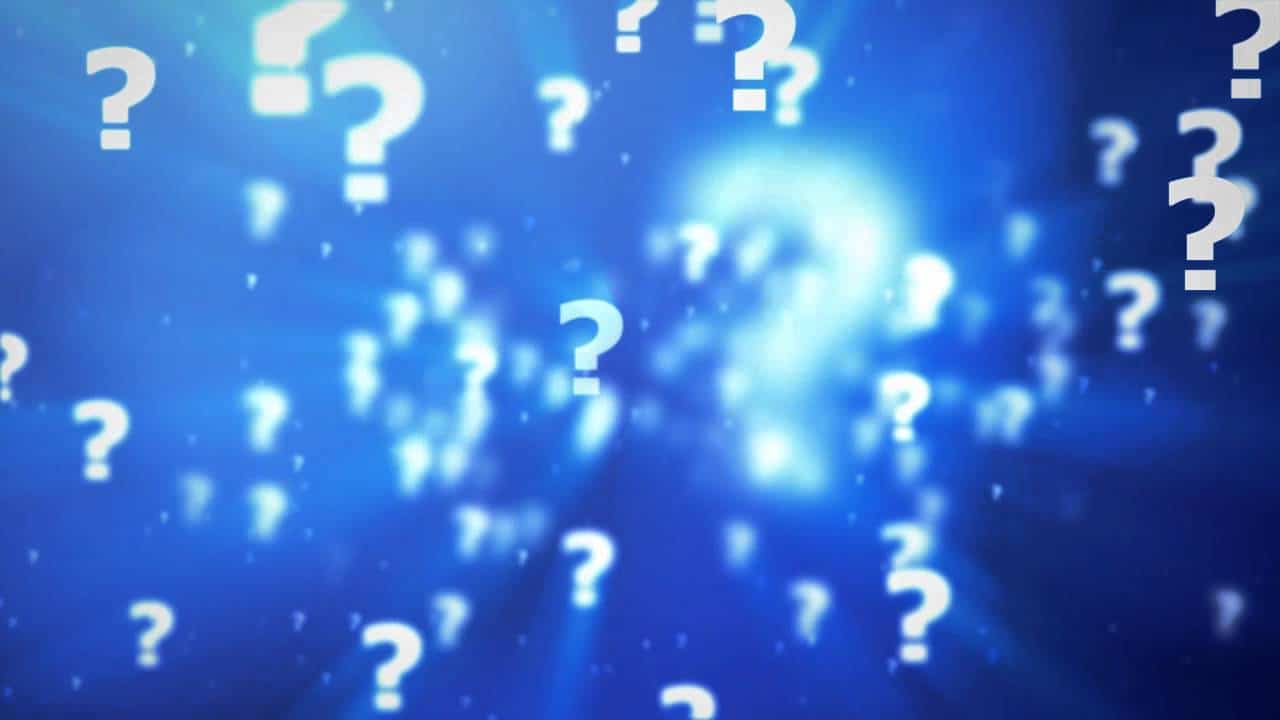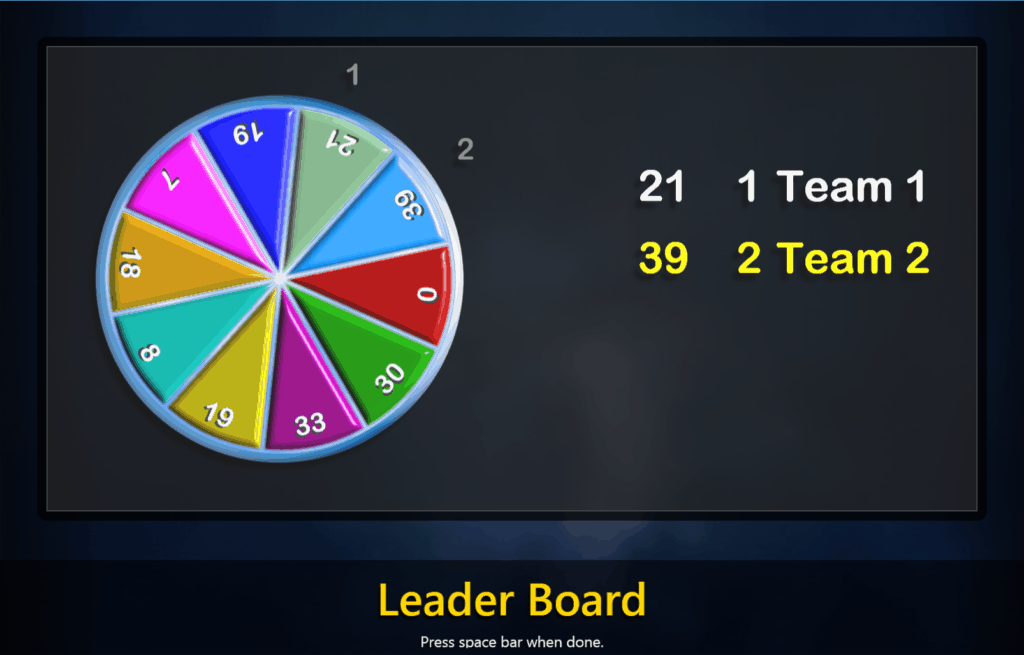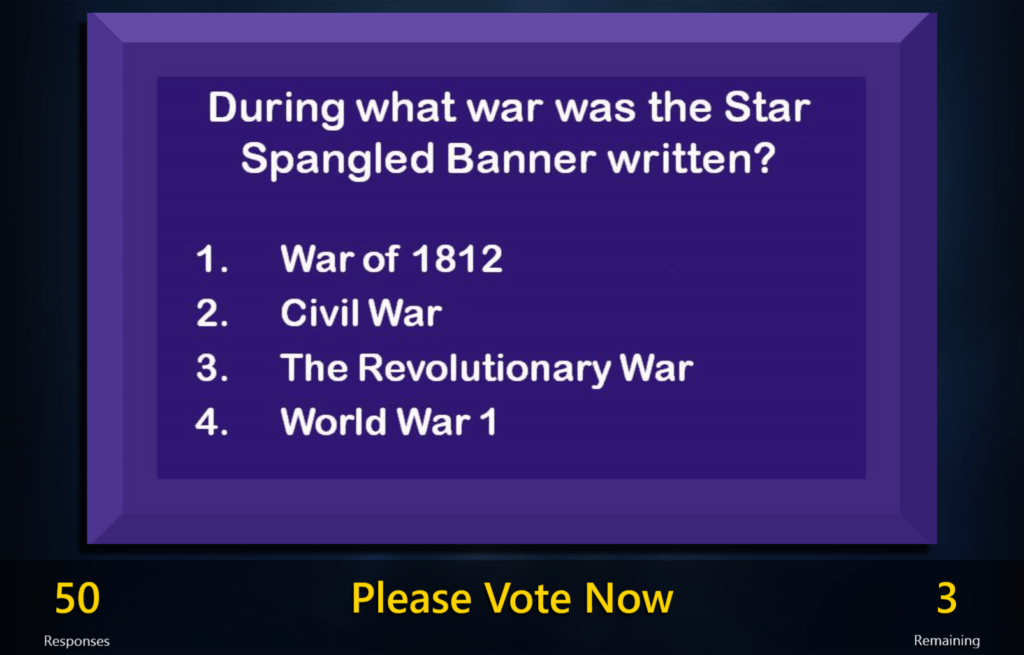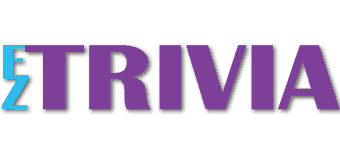 Simple, Fun
Interactive
Team Game
Interactive Meeting Games
EZ-VOTE Connect includes three interactive meeting games at no extra charge. They are built right into the audience response software suite. Each of them lets you customize the game template and questions easily with just PowerPoint. You can edit your team names (go Eagles!) and ask the audience to pick the team they want to be on. And then the games begin…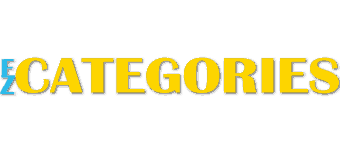 EZ-CATEGORIES interactive meeting game is similar to the hit TV show, Jeopardy. Providing you with complete control over the content by customizing a standard PowerPoint file, it lets you construct a game board with 3×3, 4×4, or 5×5 grid and start playing within minutes.
The simplicity of the setup and "zero-to-play" time for those who will be tasked to operate the game, makes it a perfect companion to your training, or sales meeting.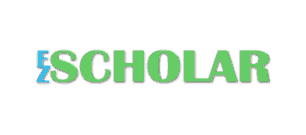 EZ-SCHOLAR is a team-based game similar to the popular TV gameshow "Are You Smarter Than a 5th Grader?"
It features a game board with five levels of question difficulty in two categories. Create your own games easily from our PowerPoint presentation template and see if your audience is in fact "at home" in the classroom.
EZ-TRIVIA is a linear, team-based trivia game without a particular style of a gameboard. Designed to be simple, easy to set up, and customized in PowerPoint, EZ-TRIVIA will fit any budget and any meeting.
Teams collect points and partake in a friendly competition, enhanced by animated score boards and a winner announced at the end of the session.
Give it a try. It's free and no signup is required.

Make Your Own Meeting Game Template
Create a PowerPoint Template
Creating an interactive meeting games template is as easy as using PowerPoint. First, you choose the type of game. If you chose Jeopardy (ehm, Categories), then you pick the size of the grid and we'll provide you with a PowerPoint template to work with.
You can create some cool, themed presentations for your students, or meeting attendees in mere minutes. Check out the one on the right.
After the import, you can name your game template, so that you can use it over and over with just a click of a mouse. Then you'll simply tell the game app which answer is correct on each slide, so that we can assign the points to the winner. Finally, the game is ready to go and you can start making your meeting more fun and engaging!
Once you have the game set up, select it from the list of available game templates, assign the teams (simply ask the audience to vote for the team they want to be on) and you're all set.
The rest of the game is just a Q&A with or without a game board that allows you to choose the 'value' of the question before moving forward, just like on the live TV show.
Pick a keypad based on your budget, battery life, size, or the style of questions you want to ask. Since the games support up to 10 answers, you can pick any keypad from EZ-VOTE 10 and up, but as long as you can keep the number of answers down to 5, EZ-VOTE 5 keypad will do the job, as well.
| | | | |
| --- | --- | --- | --- |
| EZ-VOTE 5 | EZ-VOTE 10 | EZ-VOTE HD | EZ-VOTE PRO |
| Coin-Cell Batteries(6-12 mo life) | Coin-Cell Batteries(6-12 mo life) | AAA Batteries(up to 4 year life) | AAA Batteries(up to 4 year life) |
| 5 voting buttons | 10 voting buttons | 10 voting buttons | 13 voting buttons |
| $ | $$ | $$$ | $$$$ |
| LEARN MORE | LEARN MORE | LEARN MORE | LEARN MORE |