Poll Everywhere. Anytime.
EZ-Anywhere allows users to poll, test, and vote on any application that runs on your computer or internet browser. The application uses a floating toolbar to enable interactive questions and collect participant responses quickly and easily. EZ-Anywhere is part of the EZ-VOTE Connect platform and can be accessed directly from the dashboard.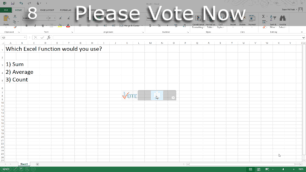 Many organizations use Excel to organize question content, store data, and report on a variety of business topics. EZ-Anywhere allows presenters to ask groups what they think of the data. Users can switch from workbook to workbook and use a single tool to gather feedback from participants.
Word is a perfect tool to generate quizzes, tests, and surveys. With EZ-Anywhere, you can ask questions directly from the text of your documents. No need to convert files over to PowerPoint or an online presentation tool. Simply activate Anywhere Polling from the EZ-VOTE Connect dashboard, click on the toolbar and survey your audience.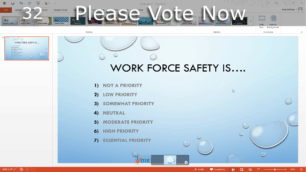 EZ-VOTE Connect includes a great polling plugin that integrates clickers and question content directly into PowerPoint. However, many users aren't the ones who create the presentations, but are simply tasked to run it. EZ-Anywhere allows for PowerPoint polling without requiring question creation or conversion. Simply "Click and Poll".
Give it a try. It's free and no signup is required.

Need to include video with your training? EZ-Anywhere works great for collecting responses during live video. You can easily show a video and ask your audience a question verbally. Activate the EZ-Anywhere toolbar and collect responses as the video plays in the background, or when it's paused in a particular part you want to quiz the trainees or students on. If you can show it, you can poll it.
EZ-Anywhere is also a great app for online presentation tools such as Google Slides or Prezi. To enhance Prezi with interactive questions, simply run a it in your browser as usual and activate polling with the EZ-Anywhere toolbar when you come to a question. Responses are quickly collected and results populated directly over the Prezi content. Once you finish polling your audience, just close the polling and continue with your presentation.
The power is in simplicity. With a floating control bar, you can move it out of way and make it visible just by hovering over it. Start a poll with a single click and close it with another one. It's dead-simple. You can also use keyboard shortcuts or your wireless clicker. It's truly a "KISS" solution 😉