Audience Response Demo System Instructions
What You Need to Do
You've received your Audience Response Demo System and want to get started. You will need to do two things:
Install the hardware
Watch the training videos (below)
What Is Demo Mode
In Demo Mode, no activation is necessary…just install the software, connect the hardware to your USB port and create you first poll.
After installation, the EZ-VOTE Connect software will automatically run in Demo Mode, limiting you to 5 clickers and disabling some cloud-based functionality.
If you need to demo the cloud-connected services, contact us here or call us at 610-260-6800.
Install Hardware
Connect the USB base receiver to the computer. You should hear a sound (if the sound level is up enough to be heard and if the speakers are turned on) and see a message in the notification tray area (where the clock is).
Once the message says "Your hardware is ready to be used", you're all set.
Hardware Installation Troubleshooting
How to Get the Best Reception for Your Keypads?
Do you find that you lose speed and range in certain locations where your audience response system is being used?
Do you have a problem with fitting the USB receiver in the computer ports that are too close to each other?
Many computers these days only have one or two USB ports. Yes, they're sleek, light and easy to carry…but you still have technology that needs to be plugged in, right?
With our audience response receiver, you also might find that it blocks the neighboring USB port, if you happen to have two adjacent ones on one side of your laptop.
My MERIDIA/EZ-VOTE Tab is Missing or Disabled
PROBLEM
You have just downloaded the software, activated your base and gotten all excited to try out the new ARS system. But there's no MERIDIA tab. Or maybe you have used EZ-VOTE add-in a hundred times and the MERIDIA tab suddenly disappeared…read on.
SOLUTION
There are two possibilities:
1.  Your download was cut short somehow, or the installation wasn't performed with local Administrator rights.
First, download the appropriate version of EZ-VOTE again:
– if you were using EZ-VOTE 2 or older software, you can download it from our AppCenter
– if you were using EZ-VOTE Connect, download it via the offline installer.
2.  Your EZ-VOTE add-in has been disabled or blocked by PowerPoint.
Either way, you will need admin rights in order to proceed, if you need your IT department to grant you permissions, do that first.  If this is YOUR personal computer and/or you are an admin, then you can continue.
Install Software
To install the audience response software:
Download the EZ-VOTE Connect app

You can always come back to this page/tab (one you're reading right now) if you need more information.
This process has to be done ONCE on every computer that needs to run/connect to the hardware. There is no limit to how many computers can the app be installed on.
Download Links
EZ-VOTE Connect is a suite of audience polling apps that allow you to present within PowerPoint, using Prezi, play interactive team games, and even invite your audience across the world to participate with their smartphones.
The TownVOTE app (Voting & Elections banner on the Dashboard) help you conduct a business meeting with Yes/No/Abstain votes, automatic, instant Pass/Fail vote call, Speaker Queue, and anonymous or identifiable voting.
It also has an election mode, where you can have a single vote, or multi-vote choices, runoff elections and more.
Download EZ-VOTE Connect
With EZ-VOTE for PowerPoint, you create special "polling" slides within your existing PowerPoint slideshow that allow you collect feedback from your audience. Convert any "Title and Content" slide with a single click.
This polling app has advanced features like ranking and rating, demographic filters, etc.
Installation Process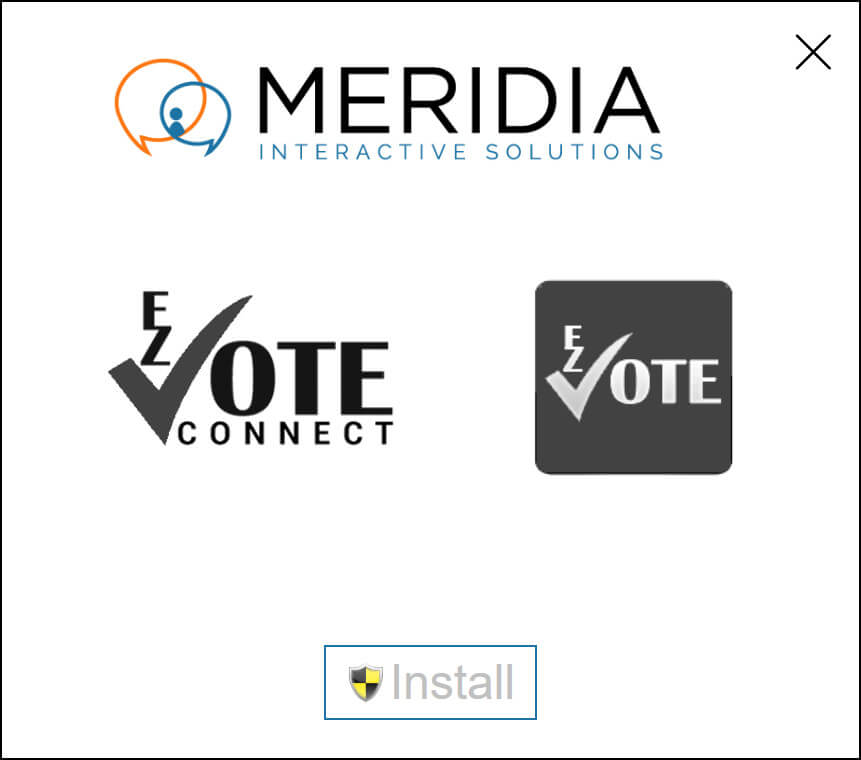 During the setup, simply allow the app to be installed. when prompted and wait until the process is complete. Click "Run" at the end of the process.
If you're having trouble with the online installer, click here to download the offline version. After download (about 200MB), unzip contents of the archive into a separate folder, such as "Downloads\EZ-VOTE Connect". Then run the "EZ-VOTE Connect Installer" Application.
Training Videos
Get started with the software by watching our training videos, or schedule a one-on-one training session.